M.A. ENGAGED HUMANITIES, SOUL JOURNEY, ARTIST'S WAY AND EMPLOYABILITY
with Engaged Humanities Co-Chair, Susan Rowland, Ph.D.
Join M.A. in Engaged Humanities and the Creative Life Co-Chair, Susan Rowland, Ph.D., for a dialogue on the relationship between the psyche, creativity and future career. This transformational program weaves together the intersubjective and relational with creativity and the humanities. Learn how this topic presents itself in the M.A. in Engaged Humaninties Program at Pacifica. Attendees are warmly invited to participate in this dialogue, and to share questions about the program. We look forward to being in community with you for this online event.
---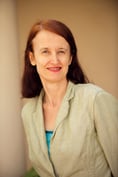 Susan is Chair of the Engaged Humanities and the Creative Life MA, earned her Ph.D. from the University of Newcastle and her MAs from the University of London and Oxford University. She was the first Chair of the International Association of Jungian Studies (IAJS). She is author of many studies of Jung, literary theory and gender including C.G. Jung and Literary Theory (1999), Jung: A Feminist Revision (2002), Jung as a Writer (2005), and also edited Psyche and the Arts (2008). Another recent book is C.G. Jung and the Humanities (2010), showing how Jung's work is a response to the creative, psychological, spiritual, philosophical and ecological crises of our age. In 2012 her book, The Ecocritical Psyche: Literature, Complexity Evolution and Jung was published by Routledge, showing how the Jungian symbol is a portal to nature. Susan's work is not so much "about" Jung as an attempt to develop his special insights into myth, technology, the feminine, nature and the numinous for today's wounded world. Courses Taught in Engaged Humanities: C.G. Jung, Individuation and the Symbolic Life; Mythic Narratives; Time, Space, and Place and the Ecology of Creative Expression; Project Workshop I: Collaboration; Project Workshop II: Creative Expression and Reflection. Courses Taught in the Jungian and Archetypal Studies Specialization: C.G. Jung in Context; Imaginal Ways of Knowing: Active Imagination, the Red Book and Psychic Creativity; Mythopoetic Imagination: Viewing Film, Art, and Literature From a Jungian Perspective; Reflective Studies I; Reflective Studies II; Post-Jungian Critiques and Perspectives.