Jungian Arts-Based Research: How Creative Practice becomes a new research methodology with Depth Psychology
A webinar with Susan Rowland (Ph.D.), Co-Chair of MA Engaged Humanities

Tuesday, June 22, 2021 at 3:00-4:00pm PDT
Artists and creators have long lamented the split in culture between the knowledge-making sciences and the interpreting arts and humanities. Now in a twenty-first century calling out for transdisciplinary solutions to epochal problem of climate change and too long denied social justice, Jungian arts-based research offers the re-unification of the science, of knowledge and of the culture. This webinar with show how JABR brings back alchemy as a holistic, socially-engaged cosmic vision. We will also discuss how this work is developed in Pacifica's unique MA Program: Engaged Humanities and the Creative Life.
Learn more at: https://www.pacifica.edu/degree-program/engaged-humanities/
---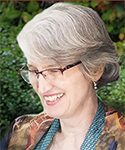 Susan Rowland (Ph.D.) is Chair of the Engaged Humanities and the Creative Life MA, earned her Ph.D. from the University of Newcastle and her MAs from the University of London and Oxford University. She was the first Chair of the International Association of Jungian Studies (IAJS). She is author of many studies of Jung, literary theory and gender including C.G. Jung and Literary Theory (1999), Jung: A Feminist Revision (2002), Jung as a Writer (2005), and also edited Psyche and the Arts (2008). Another recent book is C.G. Jung and the Humanities (2010), showing how Jung's work is a response to the creative, psychological, spiritual, philosophical and ecological crises of our age. In 2012 her book, The Ecocritical Psyche: Literature, Complexity Evolution and Jung was published by Routledge, showing how the Jungian symbol is a portal to nature. Susan's work is not so much "about" Jung as an attempt to develop his special insights into myth, technology, the feminine, nature and the numinous for today's wounded world.